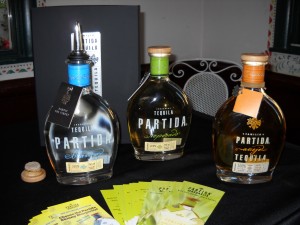 Written by Cary Hershberger, 5 Apr 2013  http://tequilaconnection.com
 Joined by three of my tequila-loving friends, I attended a four-course Partida Tequila Pairing Dinner on 3 April at the Old Town Mexican Cafe in San Diego. I decided to share some of what we experienced during this entertaining event. Upon arrival, we were greeted by Sofia Partida. Sofia explained she would be stopping by each table to guide us through the tasting. We were excited to learn the pairing is to include Partida's top-of-the-line Extra Añejo, Elegante.
 A very refreshing round of cocktails concocted of Partida Blanco, fresh lime juice, pomegranate juice and agave nectar were delivered to our table.  Sofia poured us a round of Partida Blanco in small brandy snifters as she explained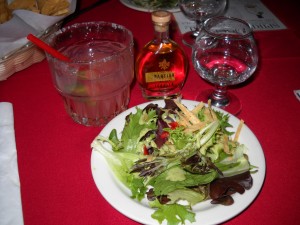 how the Partida line of tequila is produced. They use mature agave grown in the lowland area of Amatitan, Jalisco. The shaved agave piñas are cooked for 18 hours in stainless steel autoclaves. They use a double-distillation process designed to capture and highlight the characteristics of the locally grown agave. Although NOM 1454 depicted on the bottle indicates the Familia Partida Distillery, distillation is actually performed at Autentica Tequilera in the town of Tequila, Jalisco. No additives, colorings or artificial flavors are introduced during the production process. The Blanco is left to settle for a couple weeks in Stainless Steel tanks prior to bottling.
 Sofia explained tequila tasting techniques as our salads of spring greens arrived. Partida's Blanco has a pleasant aroma of agave with light vegetal and floral notes. We found flavors of agave, citrus, and herbs (a hint of mint) with a slightly peppery finish. The creamy cilantro, sunflower seed and tequila dressing on the salad paired well with the crisp blanco.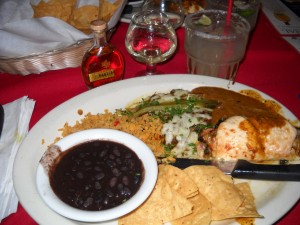 An appetizer of shrimp-stuffed mushrooms appeared along with a fresh Partida Margarita. We continued sipping cocktails, snacking on fresh tortilla chips and salsa, and anxiously awaiting the next tequila pour.  The Reposado tequila was served quickly followed by the main entrée. The Reposado, rested for 6 months in used Jack Daniels' whisky barrels, has a light-amber appearance with aromas of spice, wood and fruit. The hefty entrée (pictured above) featured chicken breast stuffed with asparagus, spinach, mushrooms, and sweet red pepper along side a hunk of Steak Azteca (skirt steak topped with a wonderful tomatillo-based sauce). Both the stuffed-chicken breast and steak were topped with melted Swiss and Monterey Jack cheese with a side of beans and rice to complete the plate. The spicy flavors in the entrée danced with the spicy notes in the Reposado resulting in an intense combination of flavor and heat.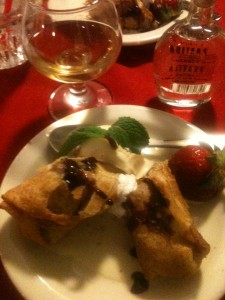 As I struggled to finish the Grande entrée while capturing details on my note pad, the Añejo made its way to our table. Eyebrows were rising as our group sampled the Añejo, aged 18 months in similar barrels. This full-bodied tequila has a golden hue with aromas of spice, fruit, vanilla and honey. We were very much enjoying the complex flavors of baking spice, stone fruit, butterscotch, vanilla and oak of the Añejo.
Next arrives the dessert – called a banana burrito served with ice cream (pictured here).  It was a nice dish to accommodate the end of the Añejo and introduction of the Elegante Extra Añejo.
 The Elegante is aged 3 years in used Jack Daniels' barrels, then an additional 6 months in new American Oak barrels which are half the size.  The new and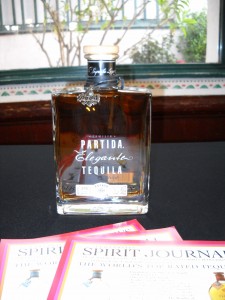 smaller size barrels speed up the impact of aging, thus 3 and a half years is plenty of time to get the desired flavor profile.         
The ultra-premium Elegante Tequila is silky smooth and well balanced. We found similar flavors as the Añejo along with some tropical fruit notes. A wonderful after-dinner sipper albeit a bit pricy ($350 per bottle) it comes in very elegant packaging and is likely to impress serious tequila connoisseurs.
 The pairing dinner lasted about 3 hours – a great value for the cost of $55 per person. Thanks to Sophia Partida and the folks at the Old Town Mexican Café for their efforts with this entertaining event. It was very personable and enjoyable. We look forward to attending similar tequila pairing dinners in the future!
---