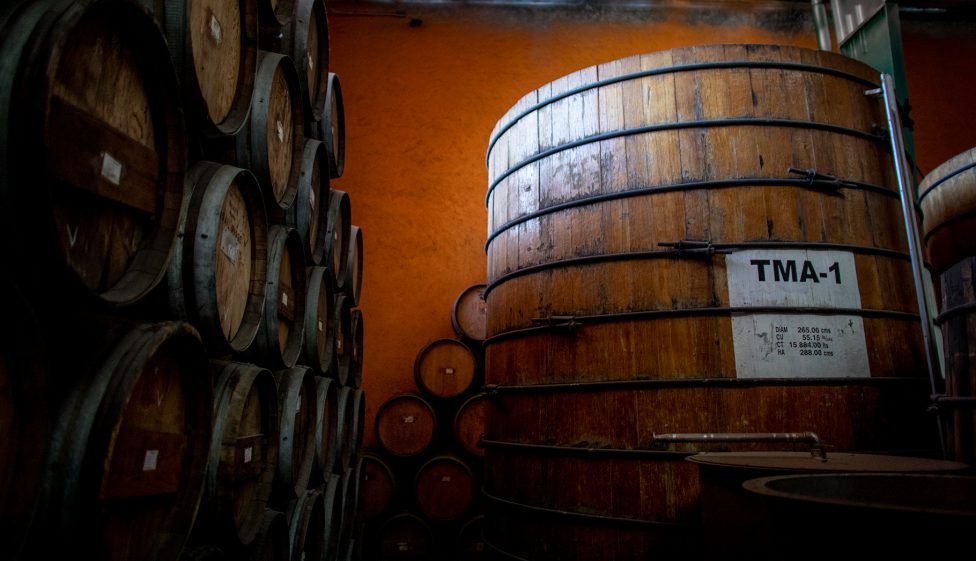 Barrels aren't new to the tequila industry, but carefully aging products in barrels may be. Back in the early 1800s tequila was transported around Guadalajara in small wooden barrels, according to writer and tequila historian Ted Genoways. Later in that century mules carried similar tequila-filled barrels over the border to share the wealth with neighbors to the north. But the first marketed añejo didn't arrive until 1917 with Jose Cuervo's "Supremo Tequila Añejo" called Cuatro Letras, promoted in its time as "a fine substitute for the better Cognacs," according to Genoways. Despite this history, producers are just starting to play with a larger range of styles.
"We get a very rich product out of the still, so this has not forced us to look for greater complexity or subtlety of maturation techniques," says Sergio Mendoza, owner of Tequila Don Fulano, made at the distillery Tequileña (NOM 1146), which has one of the most extensive barrel collections in the industry. Because tequila producers have been spoiled by the complexity of their raw material —agave— they didn't start taking aging seriously until the last 50 to 60 years, he notes.
Today, tequileros have a lot of options when it comes to aging techniques, from the choice of barrels, to how they are treated, how long they are used, and whether they are blended, or left as single barrels. All of these are important decisions that affect the final product. In fact, Mendoza estimates that 70% to 80% of an aged tequila's qualities come from the aging.
While the subtleties are seemingly endless, we thought we could at least take you for a sneak peek to see how a few brands approach their añejos.
We'll start our journey at tequila El Tequileño, since the brand has long had a blanco and reposado, but no permanent añejo in its lineup. (They did produce a very good añejo for the brand's 50th anniversary in 2009, aptly named "Especial 50th Aniversario".)
Now that El Tequileño is under new ownership (it was bought by Wayne Henuset/Paradise Spirits in 2017) they decided to expand their offerings, bringing both añejos and extra añejos (XAs) into the mix, as well as extra aged reposados.
We joined them one morning last November in the town of Tequila as their tasting team took samples from many different barrels, and different "lots," or distillation runs.
"Each barrel adds a different nuance to the lot," says Randy Ullom, Winemaster at Family Jackson Wines, and a new stakeholder in the El Tequileño brand.
They pulled 12 extra añejo samples and around 35 añejo samples from older, charred American Oak barrels, as well as newer American Oak and French Oak barrels. The samples ranged from just 1 month in age, to 7 years.
"You are looking for those minute attributes both in the aromatics, and of course in the palate… you want it to be fulfilling and have a nice finish," Ullom says.
When the tasters went to work some samples were eliminated at the outset (if they tasted like they needed extra time in the barrel, for example), while others were identified as standouts.
For instance, they set aside a sample that carried the brand's signature orange peel aroma, according to Tony Salles, Master Distiller at El Tequileño. He represents the third generation of tequileros at the distillery and is working with the new owners to keep the brand's traditions alive.
Once all the samples were evaluated, Ullom began blending. Instead of having an end product in mind, the blending takes advantage of what the aging is giving them, he says.
Of course, the process of creating new profiles is much different than if you have an established product, and are looking to produce some level of consistency batch to batch.
Over at Casa Noble they strive for consistency through barrel blending, and tasting to make sure the aged tequila meets their profile, such as balanced agave, vanilla, spices and dried fruits, says Casa Noble Global Brand Ambassador Dave Yan.
They age all of their regular reposado and añejo in French Oak barrels, but of different sizes and different toast levels. This gives them a greater variety of aromas and flavors from the same wood. When the tequila in them reaches maturity, it is sampled by their aging master, Juan Jose.
They lean heavily on his palate to ensure that the blending of barrels is successful. He first tastes the tequila coming out of each barrel and decides whether it will go into the blend he is producing, or set aside for a single-barrel product if it is particularly unique.
"It's a matter of integrating what you have in the right portion without losing your identity," says Yan. "That's part of the craft."
So, blending a percentage of different barrels and having a team check new batches to gauge consistency is one common way that añejos are produced. But there is one tequila producer who takes a very different approach, by "vatting."
This is a process more typically used by producers of Scotch, Cognac, and Whisky in Europe, but was adopted by Enrique Fonseca at Distileria La Tequileña around 30 years ago. It is a "post-aging process" in which they put multiple barrels into a large wooden or stainless steel vat, and then let it "marry", so the different flavors combine and mellow, says Don Fulano's Mendoza, who is also Enrique's nephew.
This is done because each individual barrel has its own profile and contributes different components to the product, which can divert from the desired profile, he says. Marrying also has the advantage of bringing the blend of batches into balance, he says.
"It's amazing how once you start blending barrels the product is literally resisting each other on a molecular level," Mendoza says. But with time, it comes together
At La Tequileña they have around 36 wooden vats of between 12,000 and 16,000 liters, plus another two dozen stainless steel ones. They empty a different mix of barrels into each vat, depending on the product they are producing, and let them marry for at least 60 days to bring the different barrels in balance.
When an individual vat dips below 50% full they will add more barrels into it, so they are keeping consistency by this natural "back-blending" process.
"The real advantage of this is being able to fine-tune the product to exactly what you want to achieve, Mendoza says.
Otherwise, tequila has so many variables it is difficult to control, he notes. But with their process they are ensuring that if a consumer likes one of their aged products, they will be able to get something very similar in the future.
Tequila Patrón reaches consistency in a similar vein, with their "solera" system. This is a method of keeping a certain amount of inventory on hand to meet demand by making many small batches, blending them to a desired profile, and then letting them marry in holding tanks.
Because they have a continuous flow of volume going to holding and then to bottling, the inventory in the solera hardly moves, creating consistency, says Patrón Production Director Antonio Rodriguez.
By the time the tequila is bottled it has been tasted twice by their aging team—once when it is removed from the barrel and blended, before it goes into the solera system, and again before bottling.
In each case, these "vatting"-type processes are done with precise measurements of the aged products being added in. Knowing the type of barrel, the flavors it is producing, and how long the tequila has been resting, is crucial. But these systems also require aging volume—a great number of barrels to rotate product in and out of.
That's not the case at Fortaleza, which is dedicated to small batch production. The brand ages both its reposado and añejo in used American Oak whisky barrels. When the tequila reaches its desired age (around 6 months for the repo and 18 months for the añejo), the barrels are emptied into a holding tank, and then bottled fairly quickly to keep up with demand. There is no adjusting to match previous batches.
"We don't try to get consistency — that's what small batch means," says Tequila Fortaleza Owner Guillermo Erickson Sauza. "There will be some tiny variations that are impossible to control."
Fortaleza has long embraced the changeable nature of tequila, showcasing differences in agave, production runs, barrels, and seasons. Like wine, tequila has terroir and is affected by many tiny changes in the environment and in the process. By putting a "Lot" number on each bottle, Fortaleza acknowledges that each batch is unique.
For instance, a Lot 47 reposado and Lot 48 reposado might have different colors or taste slightly different, Sauza says. "There's many things that can drive that, but what comes out of the barrels is what comes out. One thing I can say for sure is that we don't use additives (for consistency)."
He makes an important point. Letting batches speak for themselves, or carefully blending barrels and using vatting-like processes to try to find consistency is not done industry-wide. In fact, many producers rely on additives such as caramel coloring and oak extracts to create consistency.
This is allowed under industry regulations, but is not—in our view—the most graceful way to age. Some industry insiders, who choose not to be quoted, acknowledge that one of the biggest mistakes in the tequila industry was setting up the expectation that aged tequilas should be consistent, with the same color and flavor no matter when they were made, or which barrels were used. Until consumers realize that in order to achieve batch-to-batch parity some producers will rely on additives, we will be stuck with this consistency dilemma.
Back at Tequileño the blending continued. Ullom decided to add a little bit of extra añejo to their new permanent añejo product.
Master Distiller Salles seemed happy with the result. "I think we outdid ourselves (compared with 50th Aniversario). It has a really good flavor and aroma of sweet vanilla and honey." And importantly, it keeps with the house style. "You could easily say this is Tequileño," Salles says.
To keep consistency for future lots, they will hold onto some of the new añejo to "back blend" with future batches.
After hours of tasting and blending, the team landed on a new añejo, now dubbed Añejo Gran Reserva, which is a blend of 2-year añejo with 6-year extra añejo. (It should be debuting in the market as soon as this month.) They also chose an XA blend, but decided to leave it in the barrel a little longer.
If you choose to visit the Casa Salles Hotel that sits on the distillery property, you can also sample a new French Oak single barrel that will be exclusive there.
They have more aged products planned, including a single barrel program, and they are even releasing a cristalino soon.
Back in November we tasted blends for both the new añejo and upcoming XA, as well as some single barrel selections. All were well made, and carried the unique and real attributes of the wood. Our favorite was the XA blend (slightly high proof when we tried it). The complexity and rich dried fruit aromas made it a knockout, even though we generally preferred less aged tequilas.
"That's the art of the blending," Ullom says. You take what the barrel gives you, and highlight the strengths, based on careful tasting and care.
---
A Video View
We shot this video during our visit to the El Tequileño Añejo blending session, which included a tasting session at the end to collect feedback from trusted tasters.

---